Irish women and children dragged out of their beds and sold into slavery.
Eleven-year-old Philip Welch was kidnapped from his own bed in 1654, by order of Oliver Cromwell, Lord Protector of England. He and another Irish lad, William Downing, were loaded onto the ship Goodfellow, which by then was already bursting at the seams with Irish women and children destined for slavery in New England. ~ White slavery in colonial New Englandx 
From Harper's Weekly, 1899:
The Iberians are believed to have been originally an African race, who thousands of years ago spread themselves through Spain over Western Europe. Their remains are found in the barrows, or burying places, in sundry parts of these countries. The skulls are of low prognathous type. They came to Ireland and mixed with the natives of the South and West, who themselves are supposed to have been of low type and descendants of savages of the Stone Age, who, in consequence of isolation from the rest of the world, had never been out-competed in the healthy struggle of life, and thus made way, according to the laws of nature, for superior races.
PART ONE:
THE IRISH SLAVE TRADE ~
THE FORGOTTEN "WHITE" SLAVES 
~ THE SLAVES THAT TIME FORGOT
"Ireland's population fell from about 1,500,000
 to 600,000 in one single decade."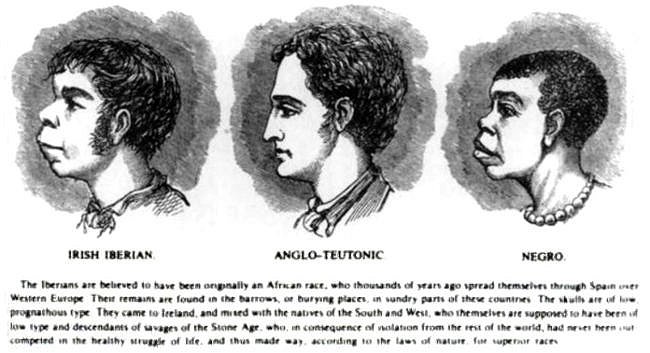 "Scientific" racism
http://snippits-and-slappits.blogspot.nl/2012/05/irish-slave-trade-forgotten-white.html
Similar topics
---
Permissions in this forum:
You
cannot
reply to topics in this forum